La Rochelle
La Rochelle is a lively vibrant city with lots of atmosphere, there is the famous FrancoFolies rock festival held in July, Jazz festivals, boat show (le grand Pavoir), car rally's through the streets, street entertainers, and an amazing food market every day. Along the fortified port there are possibly hundreds of restaurants, cafés and bars, most over-looking the old port. La Rochelle also hosts the largest marina in Europe and daily boat trips to the local islands and Fort Boyard, Europe's largest Aquarium, many museums, bowling and animal parks. There is a casino, a Michelin 2 star restaurant, fantastic shops and boutiques, alongside seafood restaurants and beaches.
Chatelaillon
Is the nearest beach to our gites. It's a great seaside resort with miles of beautiful long sandy beaches, dotted with bars and restaurants, an Aquatic park and a Casino overlooking the sea.
Cognac
Is just one hours drive away with all the famous distilleries Henessey, Courvoisier and Martell that you can visit and take tours of them. The drive takes you through miles upon miles of vineyards.
Rochefort
Rochefort is a smaller town compared to La Rochelle, with the historic Corderie Royale, and Roman spa, the building of the ship 'Hermione' using traditional hand tools and old techniques, the Transponder bridge, Conservatoire du Begonia (Frances largest Begonia collection), great markets and shops. Just south of Rochefort you'll find the estuary of the Charente river and situated closeby is a small town called Marennes which is famous for the production of Oysters. Also well worth a visit is the fortified town of Brouage .
Saintes
Is 45mins drive, a beautiful town with many restaurants and shops, there you'll find interesting Roman remains and amphitheatre.
Venise Vert is about a 30mins drive north from here, totally different to here it's very flat with an intricate canal system to explore, you can hire kayaks or even electric boats for the whole family.
Ile de Ré
Just off the coast of La Rochelle you'll find this pretty island, with the beautiful fishing ports of St. Martin and La Flotte with their lovely boutiques, café's and restaurants, donkey's wearing gingham trousers give rides to children and adults! You'll also find the fantastic beach of Le Bois Plage along with many others. A destination for movie stars and chic Parisiennes alike.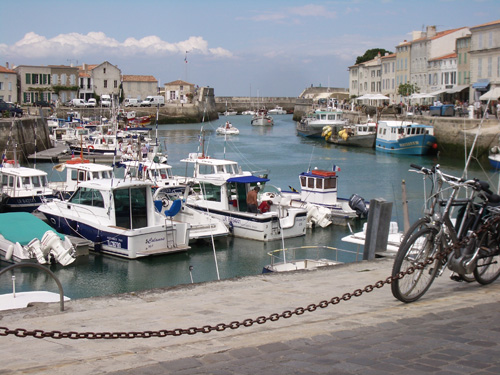 Ile d'Oleron
Is best known for miles of sandy beaches and surfing at St.Trojen . Oysters parks. Great views of Fort Boyard from Boyardville to the north of the Island . Just south of the bridge to Oleron are the long sandy beaches of Ronce-Les-Bains and La Tremblade. At La Palmyre there is a fantastic zoo to see.
Ile d'Aix
Is the smallest habitable Island , the only way onto this quaint island is by ferry boat from Fouras. It's possible to walk around the island in just 2 hours, there's a few bars and restaurants, shops and even a Napolean museum.
Fouras
Has lovely views of Fort Boyard and Fort Enet , it also has a castle overlooking the sea. The grand plage is great for families with small children, it has a sea water swimming pool for when the tide is out. Fouras is a typical French seaside resort with lovely restaurants.
Forest of Chizé is a 45min drive, there you'll find an animal park and nearby there's a donkey breeding center, they breed the Charentaise baudets (large donkeys with long knotted fur).
Poitiers and Futurascope take about 1½ hours by car.
Puy du Fou park in the Vendee is about an hours drive away, it's for all the family and a great day and evening out.
Local Specialities of the region
Cognac, Pineau made using the grape skins and soaking in cognac, local Charentaise wine, Oysters, Charentaise Melons, Salt from Ile de Ré and new potatoes, Anguille (eel) and of course Escargot (snails), Seafood platters served in most of the restaurants along the coast, Mouclade (mussels), Mougettes (dried white beans cooked in a rich tomatoe sauce) and cabécou (goat's cheese) is a regional speciality.